BERLIN– ITB Berlin Convention: The list of high-ranking speakers at the industry's leading think tank continues to grow – Big names and leading international companies with information on the most important questions about the future: shift in customer expectations and luxury travel – Exclusive survey by Travelzoo and ITB Berlin with information on the latest developments and trends – New panels on the coronavirus in response to the latest developments and new requirements for exhibitors
From 4 to 7 March 2020 the ITB Berlin Convention will be looking in detail at the latest and most important topics of the tourism industry. This sector is currently facing fundamental change. At the industry's leading think tank exclusive surveys, empirical findings and practical examples will analyse changing attitudes towards luxury and the growing shift in customer expectations. New events are regularly being added to the convention programme, which features a wide range of topics, and the list of high-ranking speakers has become longer too.
More than 400 leading speakers from the tourism industry, politics and business will be answering questions at over 200 events.
They include Dr. Caroline Brown, European regional program director, WHO,
Friedrich Joussen, CEO, TUI Group,
Sören Hartmann, CEO, DER Touristik Group and member of the board of REWE Group, Prof. Dr. Dr. h.c. Hans Joachim Schellnhuber, director (emer.),  Potsdam Institute for Climate Impact Research (PIK), Pierfrancesco Vago, executive chairman, MSC Cruises and David Peller, global head, Travel and Hospitality, Amazon Web Services.
In response to current developments one of the latest topics on the convention calendar is the coronavirus. Since the beginning of the year the outbreak has dominated events in the global economy and the world's travel industry – the consequences and effects will also be discussed at the leading travel industry convention. As well as external influences, shifts and innovations within the travel industry are topics that have to be discussed too. More information on the ITB Berlin Convention can be found at www.itb-convention.com.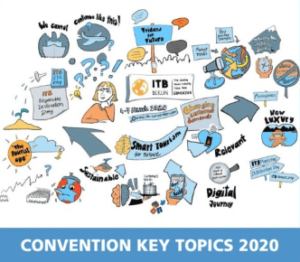 Customer expectations are changing
Customer expectations now are different to what they were in the first two decades of the twenty-first century. In certain areas, what holidaymakers want has changed significantly. Tour operators need to identify this shift, react quickly and comprehensively, and adapt their products accordingly. These challenges will dominate the ITB Future Day (www.bit.ly/32AhiK8) on 4 March, which will kick off with the ITB Executive Panel on 'Tours, Activities & Attractions' at 1 p.m. Arival, the partner of the event, will present the initial findings of its survey and Douglas Quinby, the company's CEO and co-founder, will moderate proceedings. Afterwards, the question as to whether personalising travel products really is a quantum leap will be debated by representatives of Klook, Muesement, TripAvisor and GetYourGuide.
At the ITB CEO Interview (www.bit.ly/32AhiK8) on 4 March at 2 p.m., Kevin May, editor-in-chief of PhocusWire, will be talking to Greg Greeley, president of Airbnb Homes, and Sam Shank, head of Hotels at Airbnb and CEO of HotelTonight. The topic is 'The Future Of Hospitality Will Be Hosted'.
Charlotte Lamp Davies, founder of A Bright Approach, will be talking to Sean Menke, the CEO of Sabre. Both will give the audience their views on 'The future of travel marketing: personalisation, retailing, platforms'. Afterwards, at 12 midday, Friedrich Joussen, CEO of TUI, will take his place on the podium and explain his strategy for 'Operating in unprecedented times'. He will be interviewed by Philip C. Wolf, founder and serial board director of Phocuswright. At the Deep Dive Session at 12 midday on 6 March the focus will be on questions concerning voice commerce, and at 4 p.m. Caroline Bremner, head of Travel Research at Euromonitor, will present the ITB Market Research survey 'Future of Travel 2040'.
Luxury travel is not "simply" more expensive
For holidaymakers accustomed to luxury, quality material goods and services are not everything. For a growing number seclusion and individual travel have become important aspects, as have questions regarding sustainability.
For operators, this shift in customer expectations and demands poses a major challenge. A high-quality experience is no longer fulfilling – it has to be exclusive as well. On 5 March, ITB Marketing & Distribution Day (www.bit.ly/2VuPHZ0) , there will be three events on the topic of luxury travel. At 3 p.m., Sharry Sun, global head of Brand, Travelzoo, will present the findings of an empirical survey on 'Global luxury customers and sustainability', conducted by Travelzoo together with ITB Berlin. Afterwards, a panel discussion will investigate 'Luxury and sustainability: Contradiction or prerequisite?'. Hosting the event will be Marc Aeberhard, owner of Luxury Hotel & Spa Management Ltd. At 5 p.m., Kirsten Feld-Türkis, associate partner of Keylens, and Dr. Jörg Meurer, managing partner and owner of Keylens, will hold a lecture introducing a discussion on 'The future of luxury in post-hedonic societies'.
At 12 midday on 6 March, ITB Destination Day (www.bit.ly/2uvXFWS), a panel discussion co-organised with the WTCF will discuss how the coronavirus is affecting global tourism. Introductory lectures by Dr. Eran Ketter, researcher, consultant and crisis management adviser, and Esencan Terzibasoglu, special adviser to the secretary general of the WTCF, will provide background information. At the discussion round to follow they will take their places on the podium together with Prof. Dr. Wolfgang Arlt, CEO of the China Outbound Tourism Research Institute (COTRI) and Dr. Fang Meng, associate professor, School of Hotel, Restaurant & Tourism Management at the University of South Carolina. Afterwards at 1 p.m., Mike Yapp will talk about a destination's successful brand strategy using YouTube and video marketing tools. In that context, Google's chief creative evangelist will examine various topics including the collapse of Thomas Cook and Brexit, as well as the effects of a pandemic such as the coronavirus.
New panels on the coronavirus
In response to the latest developments the ITB Berlin Convention has adapted its wide-ranging programme to include events on how the coronavirus is affecting the global travel industry. On day one, 4 March, at the ITB Responsible Destination Day, experts will take a look at crisis management in response to a pandemic such as the coronavirus (COVID-19). Dr. Caroline Brown, European regional program director of the World Health Organization (WHO), will be among those answering questions at the CityCube.
Update on the coronavirus (COVID 19): New requirements for exhibitors
As has been instructed by the local public health authorities all exhibitors at ITB Berlin are required to fill out a declaration. This declaration is a condition for access to the exhibition grounds and serves to identify persons belonging to a COVID 19 risk group.
The risk group criteria are as follows:
A recent stay in one of the risk areas as defined by the Robert Koch Institute (within the last 14 days):
China: Hubei Province (including the city of Wuhan) and the cities of Wenzhou, Hangzhou, Ningbo, Taizhou in Zhejiang Province.
Iran: Qom Province
Italy: Province of Lodi in the region of Lombardy and the city of Vo in the Province of Padua in the region of Veneto.
South Korea: Gyeongsangbuk-do (North Gyeongsang Province)
The list of risk areas is being regularly updated by the Robert Koch Institute. Updates can be found on the website: www.rki.de
During the last 14 days contact with persons who have tested positive for an infection with SARS-CoV-2.
Any signs of typical symptoms, i.e. fever, coughing or breathing difficulties.
Anyone belonging to the risk group or who refuses to fill out the declaration will not be admitted to ITB Berlin.
This is a precautionary measure in order to protect those participating in ITB Berlin and the public in general. The Federal Ministry of Health and the Robert Koch Institute have assessed that the health risk in Germany remains low to moderate (cf. www.rki.de).
Currently, no restrictions on entry to Germany have been imposed on Chinese, Asian or Italian citizens. The decision taken at an extraordinary meeting of the council of EU health ministers still applies. Accordingly, before arriving in EU countries air travellers may be asked if they have been in coronavirus-infected regions or have come into conact with infected persons.
The safety and health of all visitors and exhibitors at ITB Berlin has the utmost priority. The organizers are following the instructions of the relevant public health authorities to ensure that.
For that reason, in order to protect exhibitors and visitors the cleaning and disinfection measures will remain in place. All participants are also advised to observe the hygiene measures recommended by the Robert Koch Institute: regular and thorough washing of hands, as well as avoiding coughing, sneezing and shaking hands.
About ITB Berlin and the ITB Berlin Convention
ITB Berlin 2020 will be taking place from Wednesday, 4 to Sunday, 8 March, and from Wednesday to Friday will be open to trade visitors only. ITB Berlin is the World's Leading Travel Trade Show. In 2019 a total of 10,000 companies and organisations from 181 countries exhibited their products and services to around 160,000 visitors, including 113.500 trade visitors. Parallel with the show the ITB Berlin Convention, the largest event of its kind, will be held from Wednesday, 4 to Saturday, 7 March 2020. Russia is the official Convention & Culture Partner of ITB Berlin 2020. The World Tourism Cities Federation (WTCF) is co-host, the German Federal Ministry for Economic Cooperation and Development (BMZ), MC Group and Trip.com are Platinum Sponsors and Studiosus is Gold Sponsor. Admission to the ITB Berlin Convention is free for trade visitors and exhibitors. For more information please visit www.itb-berlin.com, www.itb-convention.com and the ITB Social Media Newsroom.